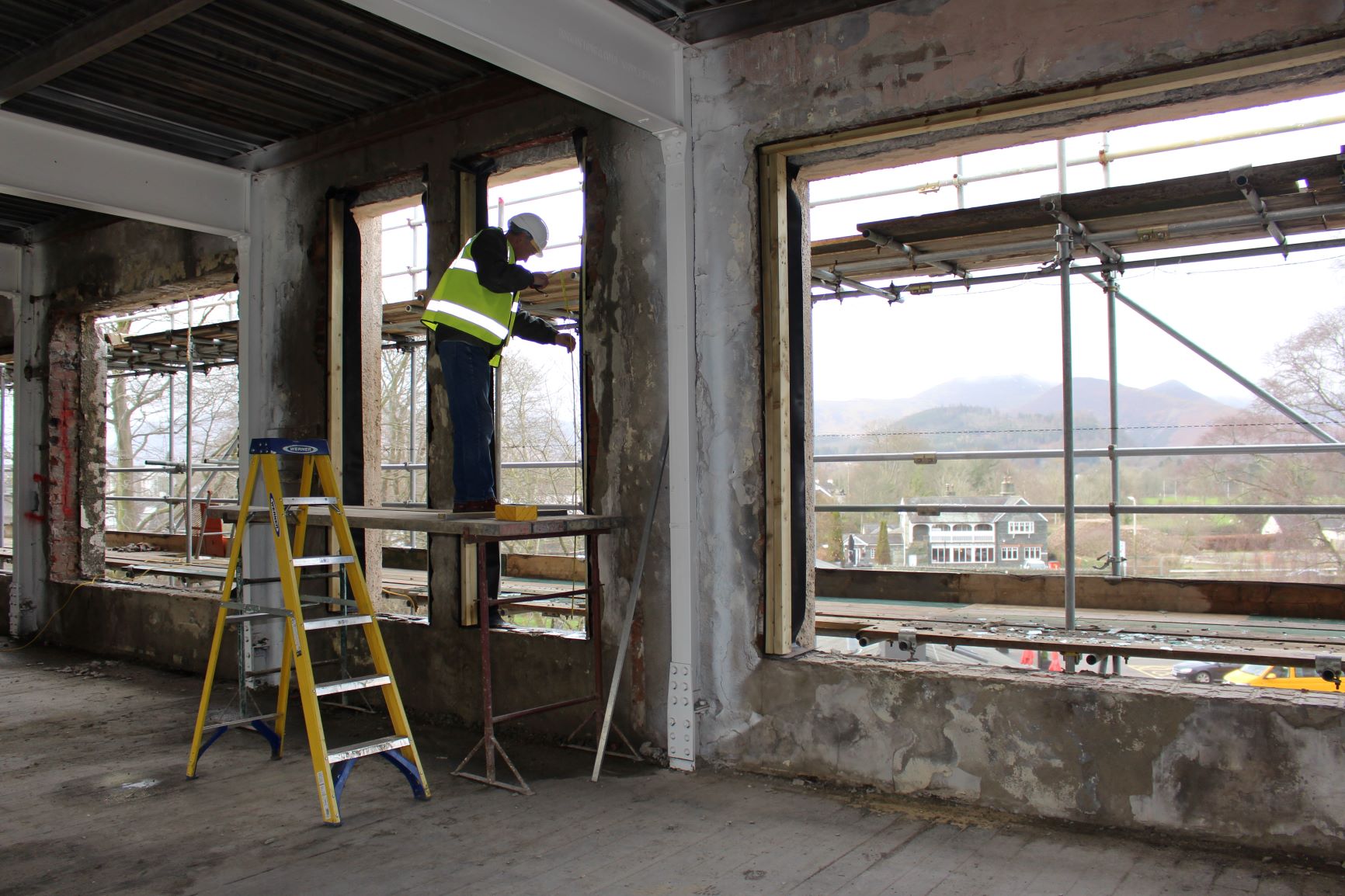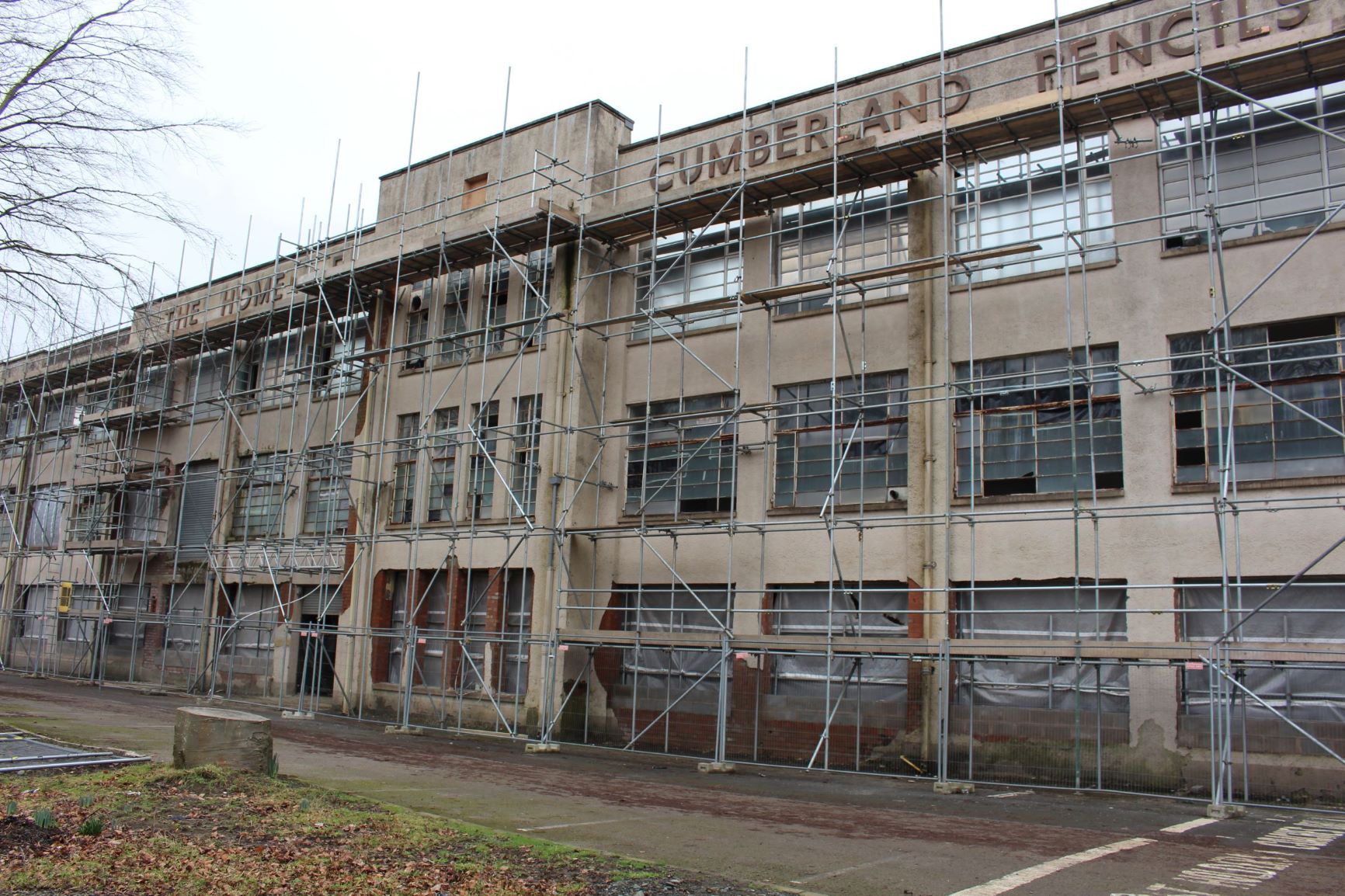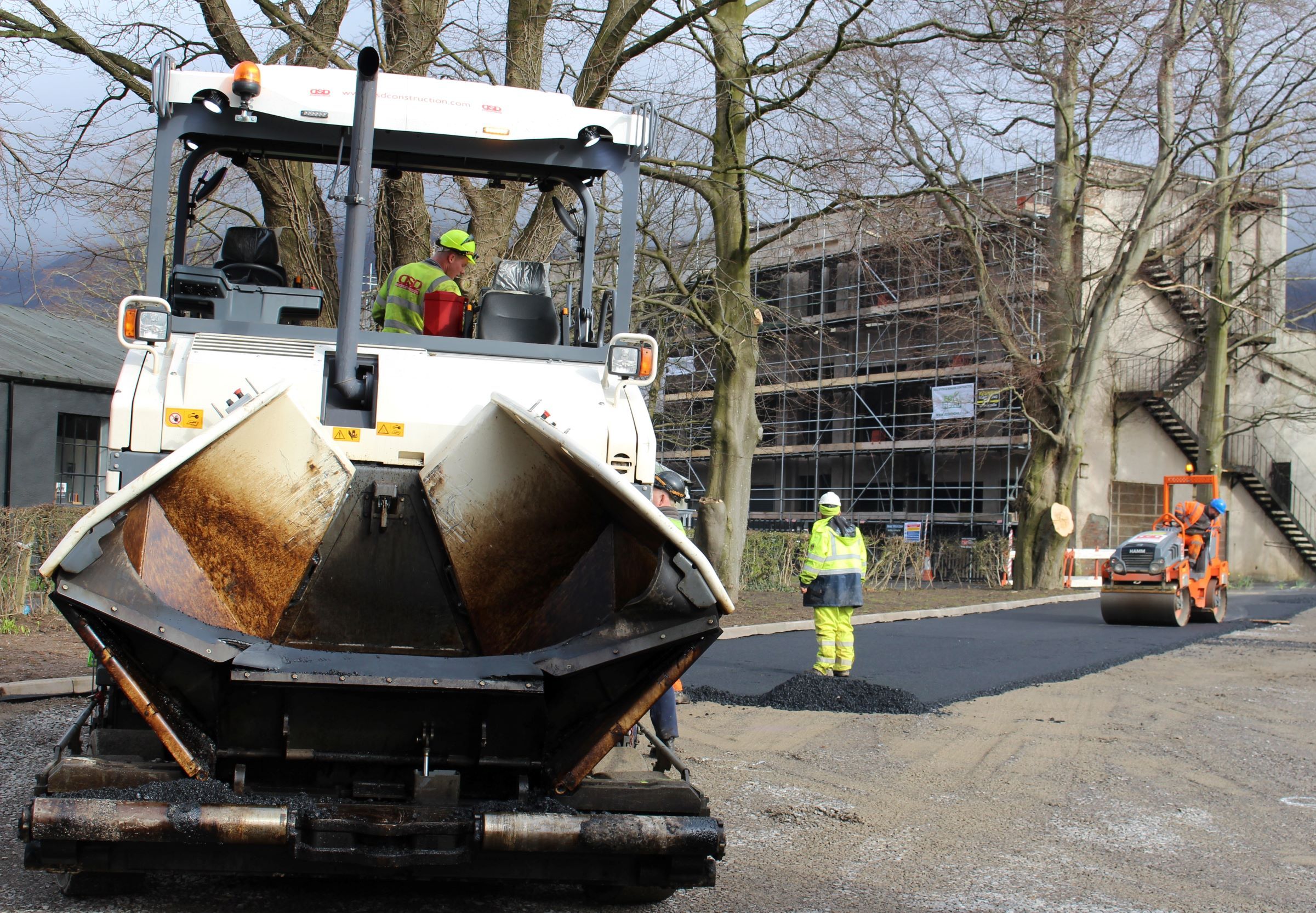 A host of Keswick businesses are working on the multi-million pound refurbishment of the town's iconic former Pencil Factory.
Keswick Ministries, which owns the site, has appointed a number of local contractors to help get the site ready for the annual Keswick Convention (11-31 July).
Scaffolding has been put up at the Pencil Factory by Keswick Scaffolding Services (KSS).
Rob Nelson, of KSS, said: "I'm pleased to be working on the Pencil Factory site. There's scaffolding up around the pencil factory building ready for other work to be carried out. I enjoy working with Murray Lawrie (Facilities Manager at Keswick Ministries).
"There's a good number of contractors from Keswick on the site. It's nice to see it was fair – the contracts were there for the taking if you could fulfil them."
Andrew Pepper, of Whitbeck Electrical Contractors in Keswick, will be helping to install electrics in different venues on the site. While, Mike Fell, Building Contractor, has helped to remove old windows from the Pencil Factory building and is putting window frames in ready for new windows to be installed.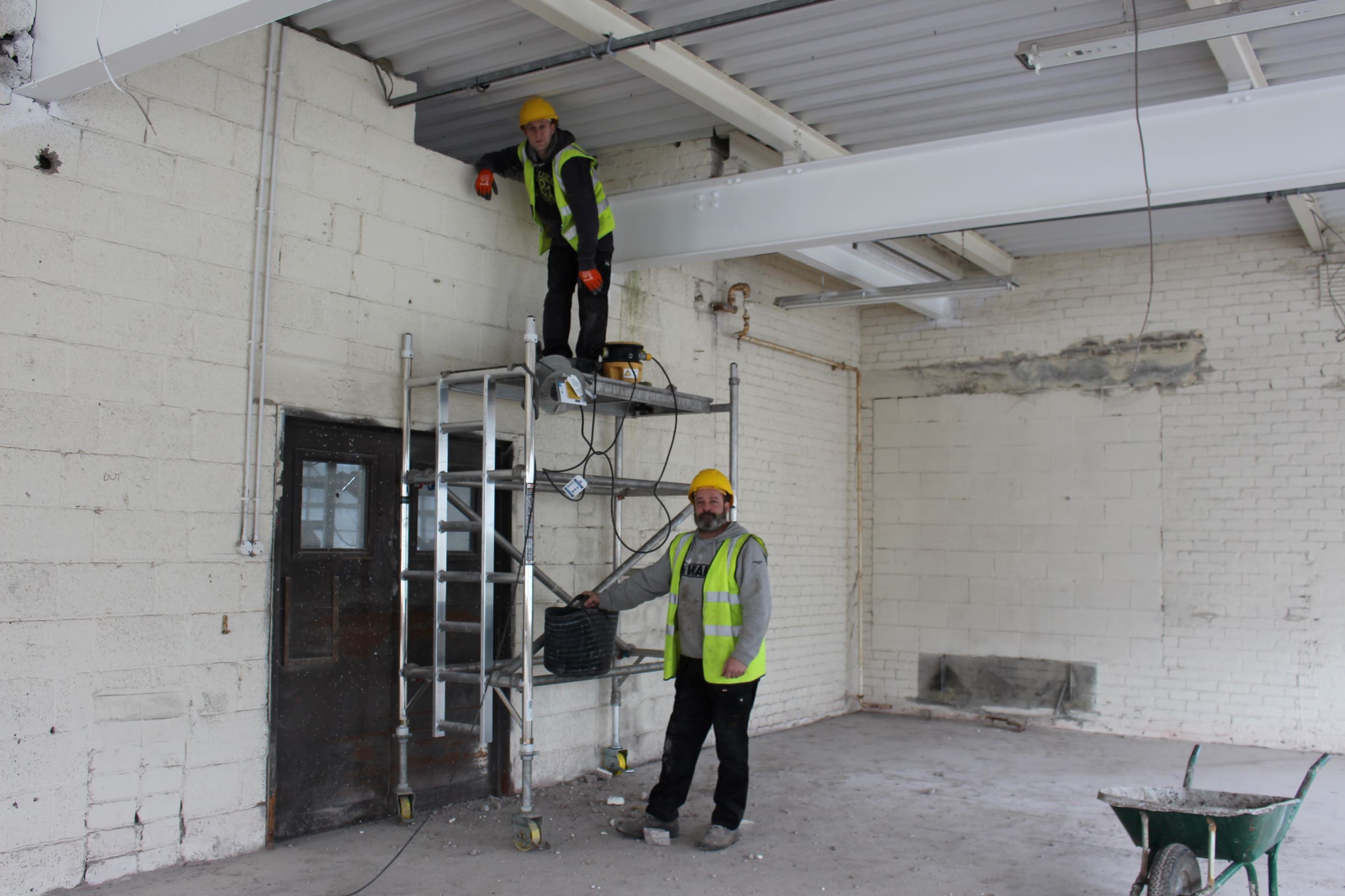 Some other preparatory works are being carried out by Gary Price, of North Lakes Groundworks, in Keswick.
And Sam Holden, of Keswick Painters and Decorators, has painted metalwork and beams in the Pencil Factory as well as adding a fresh coat of paint in other buildings on the site to make them ready for the Convention.
The letters of The Home of Cumberland Pencils on the Pencil Factory building have been taken down to be cleaned, restored and painted by Smith Engineering from Maryport before being fixed back into place.
Tony Locke, of The Environment Practice in Keswick, will be landscaping parts of the Pencil Factory Site with mixed hedging, shrubs and trees.
David Sawday, Chief Operating Officer at Keswick Ministries, said: "Running the Convention and all our other activities requires a lot of help from other businesses, we need a significant number of services – and wherever possible we want to source these from local suppliers.
"By contracting for these goods and services as close to home as possible means we ensure the benefits of the Convention flow through to the local economy.
"So, when we award contracts – all other things being equal – we look first to see if there is a supplier in Keswick, or the Lake District or Cumbria before looking further afield. We are proud to be working with local businesses."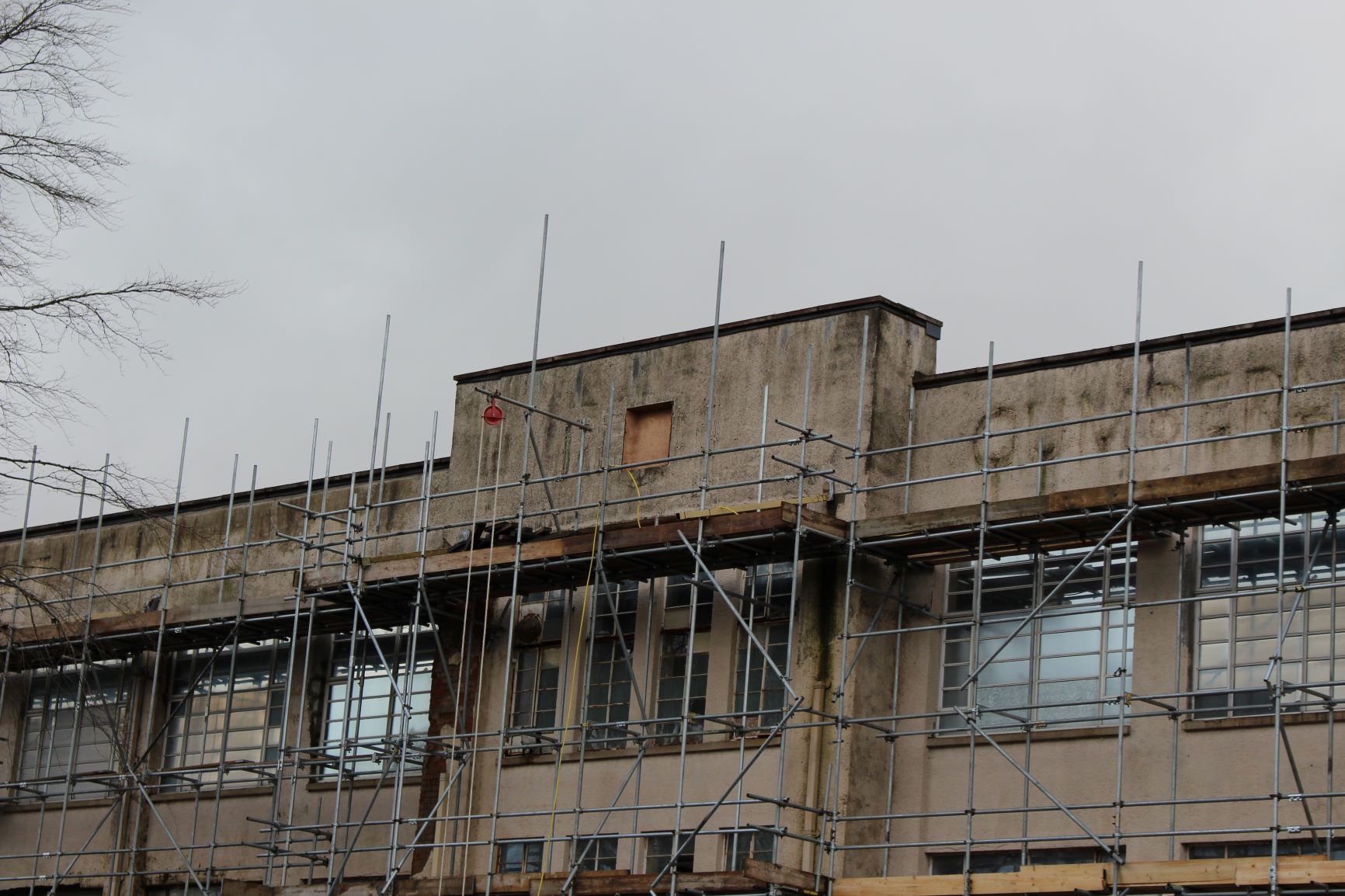 Work will be carried out at the Pencil Factory site in several phases. Details of phase one were given at the latest Town Liaison Forum. Members heard that work is being done to re-render the Pencil Factory building and also install new windows.
The contract for the installation of the toilets and the mechanical and electrical fit out is being tendered and Keswick Ministries are in discussion with two Cumbrian companies.
A host of other work, including creating a new pathway from the Pencil Factory site with Rawnsley site, is also taking place.
Wilson's Groundworks has created a new site access and will be installing a new footpath and DSD Construction, of Carlisle, has laid tarmac for new car parking spaces at the Rawnsley site.